FAQ
The survey is in foreign language. What do I do?
Nowadays migration flows have been unprecedented due to the advanced means of transportation, accessible remote services on the one hand and serious challenges some nations have faced worldwide on the other hand forcing people to seek better life abroad. Many our participants these days do not live in the countries they were born and raised. Even as a temporary resident you are qualified to participate in research projects held in the state of residency...but how to deal with the foreign language?
Source of the problem
It is important for you to understand that starting a survey you are redirected to a third-party web page the survey is hosted at. Each survey is made specifically for a certain country, therefore a local language is likely to be used. For example, the survey in Poland will be in Polish and we cannot offer it to you in Ukrainian because it is made for Poland in Polish and does not have versions in other languages.
There is an easy solution
Significant progress in AI-related industry has given us decent products for automated and relatively high-quality machine translation. Nowadays anyone can easily translate pages in one's own browser (browser is an application you use to open websites, i.e. Google Chrome, Yandex Browser, etc.). Some browsers, especially on mobile devices, have these solutions already implemented "from the box" making real-time translation available straight away. For the desktop versions you might be required to additionally install a plugin.
At Survey Harbor you need to create an account bonded to the country you are currently residing in. If you have not yet learnt the language, here is what you should do when starting any survey in a foreign language:
Going Desktop
Install the Google Translate plugin. In your browser access the "plugins" or "add-ons" menu, go to the extensions catalog, find and install the "Google Translate" or similar extension. Then after few quick and easy adjustments you are good to go.

Going Mobile
Just tap the three dots to access the settings and find your pre-built translation options. Usually it is pretty easy to figure out how to use it to your benefit.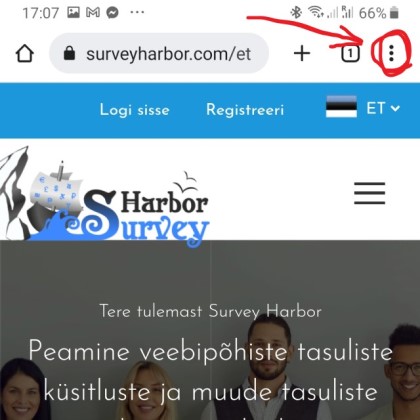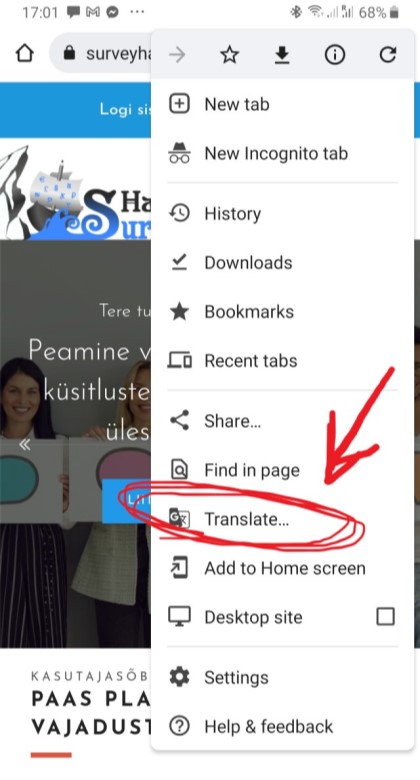 Of course you could use other solutions to translate the questionnaire, just make sure there is no conflict with taking the survey while interacting with its translated version.
Few reminders what you should never do in relations to the topic
You need to use the account bonded to the country you are currently residing in. In case you are living in multiple countries in turns, use separate accounts and use one account at a time relevant to the country of your today presence;
Giving random answers without understanding the meaning of the poll would be the worst option as it may compromise your account and lead to long-lasting negative consequences. That's why either translate the survey using modern in-browser solutions or just skip it then when having no clue what you are asked about.