FAQ
I cannot go to the next poll question though the survey itself is functioning
A) The page related to the survey fails to load.
In case the browser tab where you answer the poll questions keeps loading endlessly, then highly likely the issue is caused by the so-called «Advanced tracking protection» which some browsers set on by default in the latest releases, spreading inconvenience and misunderstanding. In this case you will be able to see something like the icon on the screenshot below in your browser tab:

The page would load normally if only you had that feature switched off in your browser. You may find yourself in the same occasion in case you are using any ad-blocking software/plugins, not necessarily pre-built in the browser. It can be both the third-party solutions like the famous AdBlock or some additional features provided with the antivirus software.
B) The poll does not allow you to proceed further to the next questions reporting you have not answered the current one yet.
It often happens with the questions where one needs to match the set of statements with the brands. Most likely this is not about the issue with the poll and you just need to figure out how to give an answer properly. Kindly keep in mind that the instructions on that page may be misleading or obscure.  Simply try using different logics until you get it:
- clicking the brand area first and then clicking all the matching statements;
- clicking the statement area and then choosing all the matching brands;
- dragging one fields into the others.
Hope this helps you to quickly take the right steps and then keep the right logics in mind for the further similar surveys you will be invited to!
C) Content and/or the button leading to the next poll question are missing.
Beside the issue with blocking the code described above in (A) section, the poor page layout may cause the problem as well, especially if you are using the device with a small screen resolution. Then try to zoom out the screen scaling in your browser tab and then set it back to normal, monitoring how the page layout alters in each case.
On Windows devices this is done by holding the Ctrl key while scrolling the mouse wheel.
On Apple PC/laptop press Option – Command - Subtraction sign (-) to zoom out and (+) to zoom in.
Should the problem occur on a mobile device, try to open the PC version of the page. For instance, in mobile Chrome it is done this way: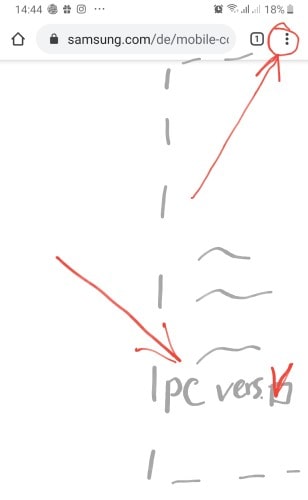 We sincerely wish you never experience any of the issues described above. However, if you do face any of the mentioned, these guidelines should help to get over it and make it successfully to the survey completion.